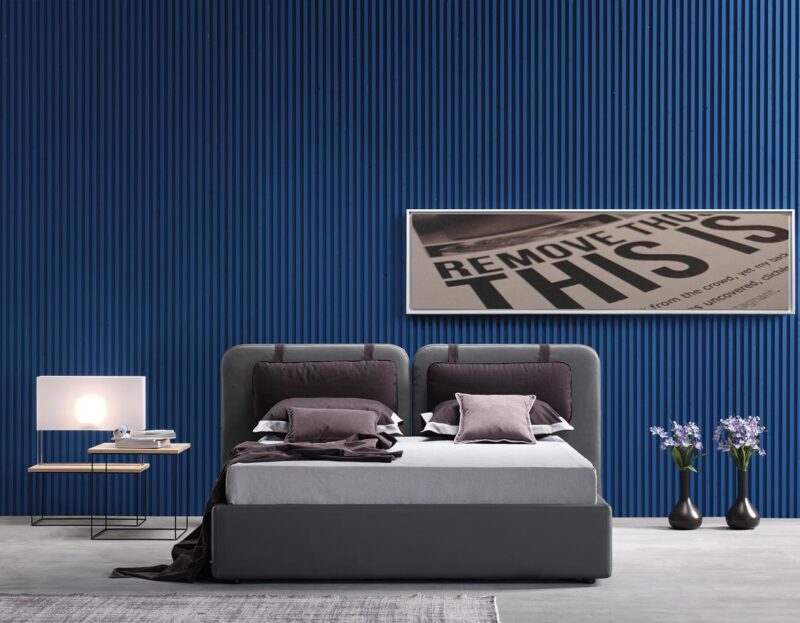 Sound
Introducing Sound – the bed that exudes a unique and captivating personality! With its captivating geometric lines, modular and symmetrical volumes, and a wide and double headboard, Sound is a perfect fusion of style and comfort. Designed with a dynamic and unconventional approach, this bed is sure to make a statement in any bedroom.
The geometric lines of the bed not only add a modern and edgy touch, but also do not compromise on the comfort that is so important in a bed. The modular and symmetrical volumes make Sound a versatile piece of furniture that can complement any interior design style. And with a wide and double headboard, this bed provides ample support for your head, neck and shoulders, ensuring a good night's sleep.
Sound is a true testament to the importance of combining aesthetics with functionality. This bed is not just a piece of furniture, but a work of art that adds a touch of elegance and sophistication to any bedroom. Its softness and comfort are unparalleled, and the quality of the materials used ensures durability and longevity.
Experience the perfect combination of style and comfort with Sound. Order now and transform your bedroom into a haven of comfort and style!
Description
Sound is a bed of great personality thanks to geometric lines that do not affect comfort, to modular and symmetrical volumes and to the wide and double headboard. A bed with a dynamic and unconventional design that does not give up on comfort and softness.