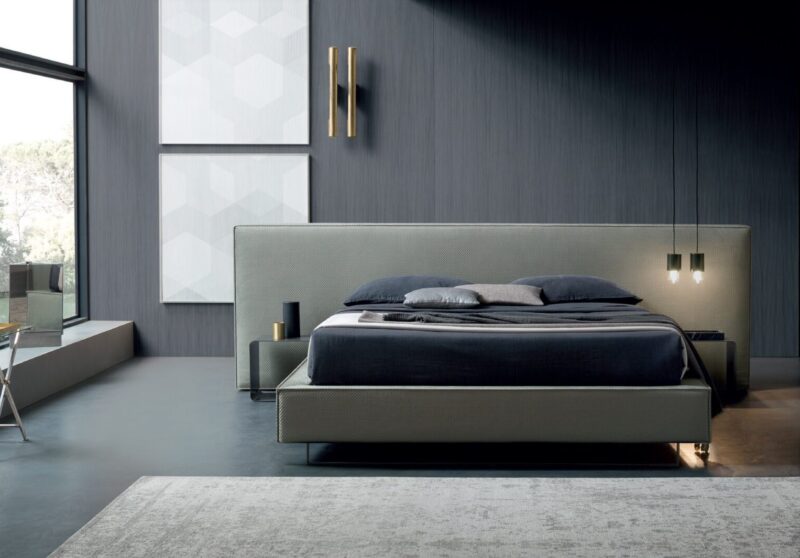 Bowie
The minimalist lines and large volumes of this bed mean it really expresses the design concept. Made from curved metal, this unit that attaches to the edge of the bed serves as a practical bedside table, to keep everything to hand.
Description
The design of this bed is truly a work of art, with its sleek and minimalist lines perfectly expressing the modernist aesthetic. The bed's large volumes and clean, uncluttered design create a sense of spaciousness and tranquility that is sure to enhance any bedroom.
One of the standout features of this bed is its innovative curved metal unit that attaches to the edge of the bed. This unit not only adds visual interest but also serves as a practical and convenient bedside table, allowing you to keep all of your essentials close at hand.
The attention to detail and functionality of this bed is truly remarkable, and it's a testament to the designer's commitment to creating a piece of furniture that is both beautiful and practical. With its sleek and modern design, this bed is sure to become the centerpiece of any bedroom, while its practical features make it the perfect choice for anyone looking to combine style and functionality.
In short, this bed is a true masterpiece of modern design, offering a perfect balance of form and function. Its minimalist lines and spacious volumes create a sense of tranquility and calm, while the innovative curved metal unit adds both visual interest and practicality. If you're looking for a bed that combines style and functionality in equal measure, this one is sure to fit the bill.