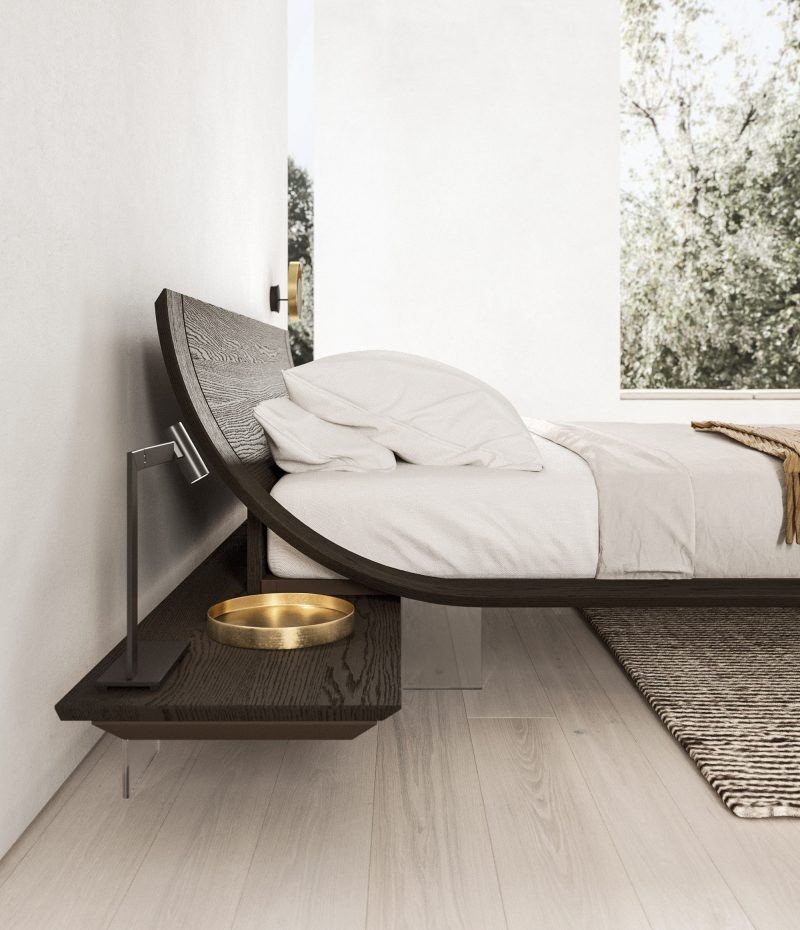 Aqua
The Aqua double bed expresses the utmost in lightness while blending modernity with the pleasure of wood perceived by the touch and sight. A single curved multi-olywood panel turns this wooden double bed into a refined work-of-art. Two pullout trays attached to the headboard complete the arrangement for a bed that offers functionality and design. The double wooden bed is supplied with an integrated self-bearing slatted base with beech slats: 6 slats have rigidity regulators and 4 slats have different risistances for shoulder support. The bed in the version Aqua_2 can fit standard slatted bases or independent motor-driven ones.
Description
The Aqua double bed is the perfect embodiment of modernity and luxury, marrying sleek design with the natural warmth of wood. Its innovative construction features a stunning curved multi-plywood panel that not only adds visual appeal but also enhances the overall durability and stability of the bed.
But the Aqua double bed isn't just a pretty face – it's also incredibly functional. The headboard is equipped with two pullout trays that offer convenient storage for books, electronics, and other bedtime essentials. And with its integrated self-bearing slatted base, this bed provides unparalleled comfort and support, ensuring that you'll wake up feeling refreshed and rejuvenated.
What's more, the Aqua double bed is highly versatile, able to accommodate both standard slatted bases and independent motor-driven ones in its Aqua_2 version. This means you can customize your sleeping experience to your exact preferences, making this bed the ultimate investment in your comfort and wellbeing.
In short, the Aqua double bed is a masterpiece of modern design that combines form and function in perfect harmony. Its sleek lines, innovative construction, and unparalleled comfort make it a must-have for anyone looking to elevate their bedroom to the next level of luxury.